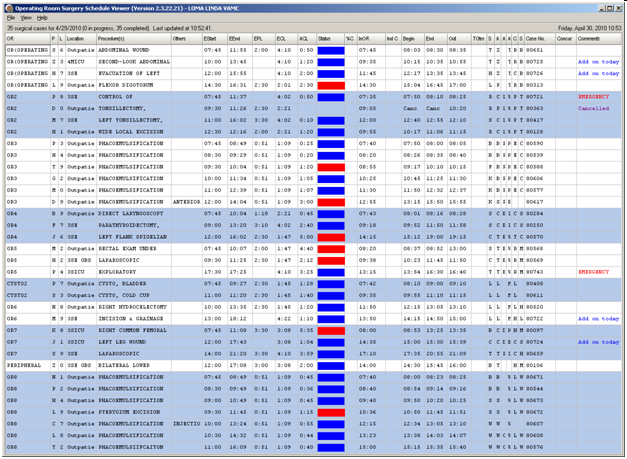 This software provides a computer monitor display of a day's scheduled surgical procedures for viewing by the operating room staff. The display is intended to replace the daily 'white board' schedule of operations, and is best viewed on a wide liquid crystal or flat panel display with a minimum width which would allow for viewing of text from a distance of at least five feet. It is important to be aware of the fact that surgical cases need to be scheduled and assigned a scheduled start time in order to appear on the display. The software will display an entire day's cases on a single screen, as long as the cases have been scheduled with a start time. Thus users may view a current day's surgeries at a glance, as well as any other day's surgeries, past or future.
Data are displayed in a format similar to that of a spreadsheet. Columns in the display include data for the following entries:
| | | |
| --- | --- | --- |
| OR | Actual case length | Attending |
| Patient Name | Time patient in OR | Anesthetist |
| Last 4 of Patient SSN | Induction completion time | Anesthetist Supervisor |
| Patient Location | Operation start time | Circulating Nurse |
| Procedures (primary and others) | Operation end time | Scrub Nurse |
| Estimated Start time of operation | Time patient out of OR | Case number |
| Estimated end time of operation | Total OR occupancy time | Concur |
| Estimated procedure length | Disposition | Comments |
| Estimated case length | Surgeon | |
Each row includes all relevant data elements as listed above for each case number. Columns can be sorted, resized, reordered, and hidden.
Updates to cases as entered through standard surgery options in roll and scroll VistA will update the matching data elements in the viewer. Comments for individual cases may be entered into the client software and will be displayed on all running instances of the application for a facility.
The executable component of this software, written in Delphi version 2007, is named R1SRLORScheduleViewer.exe. The M routines are packed into a KID file named R1SRLOR0412 and includes three RPCs utilized by the client application.
This package conforms to current standards of M programming in VistA as well as programming standards for Delphi application development.