Notes Manager – User Documentation
<![if !vml]>

<![endif]>
Introduction
Notes Manager is an application that allows you to view all of your unsigned and uncosigned notes.  The application also allows you to edit, sign, cosign, and delete notes as well as view and process your view alerts.
Rational
Notes Manager provides a user-friendly way for clinicians to manage their unsigned and uncosigned notes and thereby reduce the high number of unsigned/uncosigned notes in VistA.  Since view alerts eventually expire and no longer display to the user in VistA  or CPRS, clinicians may lose track of some of their unsigned/uncosigned notes – in particular part-time physicians.  Notes Manager overcomes the limitations and user-unfriendliness of VistA by allowing users to view and manage all of their unsigned and uncosigned notes quickly and efficiently.
User Interface
The Notes Manage user interface consists of three main view panels: 
A central main view which displays a summary list of your view alerts and your unsigned and uncosigned documents.

A list of documents in the upper left of the screen categorized by document type (i.e. progress notes, discharge summaries, clinical procedure results) and by signature status (unsigned vs. uncosigned).

An Actions view which displays a list of actions which can be performed.
<![if !vml]>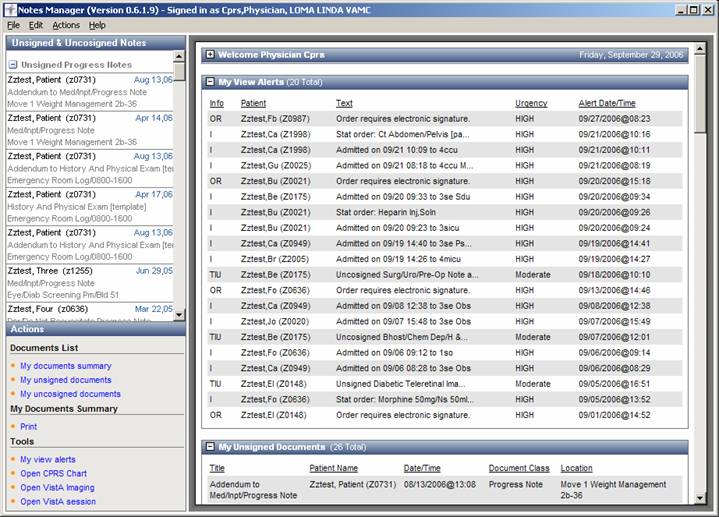 <![endif]>
Figure 1:  The Notes Manager user interface showing the default documents summary screen.
Documents Summary
The first screen that is displayed upon logon is the documents summary.  This screen displays a welcome message (collapsed by default) which displays the VistA signon welcome message, your list of VistA view alerts, and lists of your unsigned and uncosigned documents.  Each of these are in expandable/collapsible sections which can be opened or closed by clicking on the + and – icons in the upper left of each section.
Documents List
You can elect to view your unsigned and uncosigned documents as well as a list of view alerts by clicking on the "My documents summary" action on the Actions pane.  By default, the last 50 unsigned/uncosigned notes are retrieved.  To limit the list to only unsigned documents or uncosigned documents, click on the "My unsigned documents" or "My uncosigned documents" actions respectively.  Each item in the documents list is a hyperlink and may be clicked on to open the underlying document for viewing or other action.
<![if !vml]>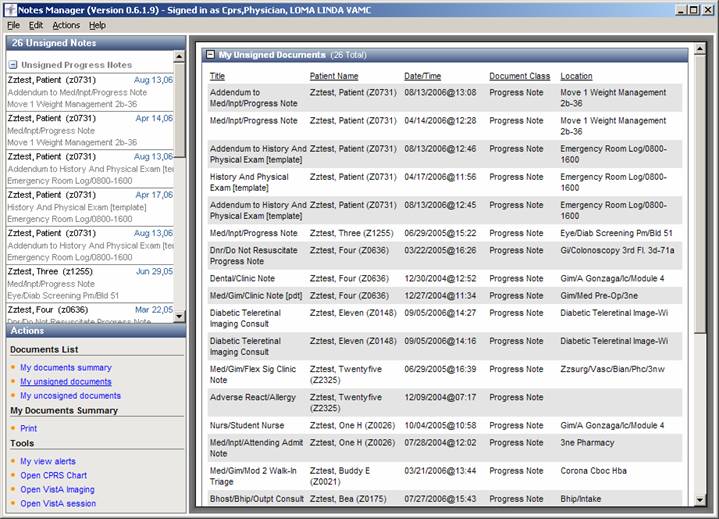 <![endif]>
Figure 2:  The "My unsigned documents" screen listing the user's unsigned documents.
Your list of unsigned/uncosigned documents is also displayed in the upper-left pane of the interface.  This list is categorized by the document type and signature status and the sections may be expanded and collapsed by clicking on the + and – icons in the upper left of the section header.  The categories of notes are as follows:
Unsigned Progress Notes

Unsigned Discharge Summaries

Unsigned Surgical Reports

Unsigned Clinical Procedures

Uncosigned Progress Notes

Uncosigned Discharge Summaries

Uncosigned Surgical Reports

Uncosigned Clinical Procedures
Clicking on an item in this list opens the selected document for display in the central view panel.  You may then elect to sign/cosign, edit/addend, or delete the document (see Figure 3 below).
Instead of clicking on the items in the list, you may use the up and down arrow keys on the keyboard to select notes in the upper-left hand documents list.
<![if !vml]>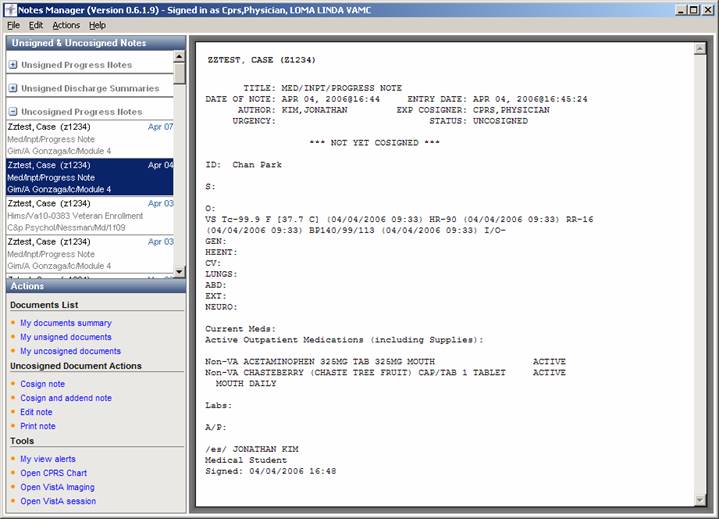 <![endif]>
Figure 3:  An uncosigned document is selected and displayed along with available actions.
Document Actions
When a note is selected for display, you are given a set of actions that may be performed on the note.  The actions corresponding to the signature status of the note are given below:
Unsigned Note Actions

Sign note

Edit note

Delete note

Print note

Uncosigned Note Actions

Cosign note

Cosign and addend note

Edit note

Print note
Keyboard shortcuts may be used for the above note actions (most are the same as those used for the equivalent actions in CPRS):
Sign note

Edit note

Delete note

Print note

Save and sign

Save without signature

Cancel changes

Shift+Ctrl+G

Shift+Ctrl+E

Shift+Ctrl+D

Shift+Ctrl+P

Shift+Ctrl+G

Shift+Ctrl+A

Shift+Ctrl+C
Signing/Cosigning Notes
When you elect to sign or cosign a note, you will be prompted to enter your electronic signature.  Your digital signature is cached in memory after the first note is signed so that when you sign additional notes you won't again prompted for your signature code.
Misc. Features
Notes Manager will switch the patient context automatically for other applications, including CPRS, when a note is selected.

Your screen state (height & position) is saved between sessions.

Your VistA view alerts may be processed (signed/forwarded/removed) within Notes Manager.
You may open CPRS, VistA Imaging, or a VistA terminal session from Notes Manager.
Unsigned/Uncosigned Notes CPRS Notification
The Unsigned/Uncosigned Notes notification displays every 24 hours in CPRS for users who have documents that need to be signed/cosigned.  This dialog also allows the user to easily sign/cosign all of their notes by clicking on the Manage My Notes button at the bottom of the dialog which launches the Notes Manager application.
<![if !vml]>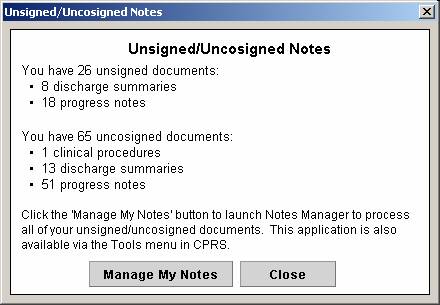 <![endif]>
Figure 4:   The unsigned/uncosigned notes COM notification.